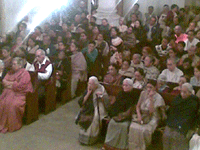 Maghotsav, the main festival of the Brahmos is celebrated on the 11th of Magh each year according to the Bengali calendar to mark the anniversary of Brahmo Samaj. The celebration commemorates the inauguration of the first Brahmo Samaj by Raja Rammohun Roy on 23rd January 1830, which was the 11th Magh according to the Bengali calendar.

Maghotsav is celebrated with traditonal fervour and gaiety by Brahmos all over the world. It is celebrated by prayers and singing of devotional hymns. In Calcutta, which is now the main seat of Brahmoism week long celebrations are carried out in the 3 principal Samajes. Food is also provided at the Samajes on the special days of the celebrations. The food is traditional and consists of khichudi, mixture of rice and lentil, along with mixed vegetables and chutney. After the celebrations the focus shifts to the provincial Samajes scattered all over Bengal.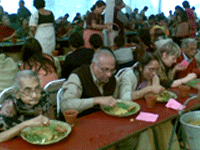 Maghotsav is also celebrated in other Brahmo Samajes in India and the Brahmo educational institutions as well and in Tagore's Shantiniketan. However these are a day celebration rather than weeklong.

Choose the links on the left to see the itinerary of the Maghotsav celebration of that Samaj.

Bhadrotsav is another important festival of the Brahmos. The 6th of Bhadra 1234 (according to the Bengali calendar) or 20th August 1828 the first Brahmo Samaj was opened by Raja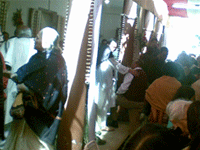 Rammohun Roy with Tarachand Chakravarty as its first secretary. This was opened on a rented house belonging to Feranghee Kamal Bose and accomodated the first theistic congregation. It should also be noted that coincidentally or otherwise other Brahmo Samajes were also opened in this particular month of the year. On 22nd August 1869 the consecration was held of the Brahmo Samaj of India or the Navavidhan Brahmo Samaj. The Brahmo Sammilan Samaj was also founded in August 1897.

Besides these two principal festivals the Samajes celebrate special days according to the state that they are in. For example the Samajes in Calcutta, have special functions celebrating the Bengali New Year, Birth and Death Anniversary of Rammohun, Birth and Death Anniversary of Keshub Chandra Sen, Birth and Death Anniversary of Rabindranath Tagore, Birth and Death Anniversary of Sivnath Shastri etc. Besides the Brahmo Sammilan Samaj also has a special festival celebrating the Nabanna or the Harvest Festival. In keeping with the tradition of Universalism - celebrations are also carried out on Birth Anniversary of Buddha, Christ etc.